Whether you are looking for sleek haircuts or want to modify your existing haircut, the list of styles we are going to outline here will prove to be extremely helpful for surging your personality. Nowadays, men like to have hair that is longer on the top and shorter on the sides. This setting of hair is not only trendy and neat but also easy to manage. From faux hawk, slicked back, and crew cut to the crop top and pompadour, there are several immaculate styles that you can try right now. Here, we have unveiled the latest men's haircuts of 2020. Just choose the most appropriate one and get ready to leave everyone stunned!
1. Slick Back Undercuts

When it comes to the trendy mix of modern and classic styles, nothing can beat the slicked back undercut. This stylish haircut is most suitable for medium length hair. You can apply matte balm if you want to hold this style in place for a whole day.
2. Long Comb-Over + Low Fade
The combination of long comb-over and a low fade is one of the elegant men's haircuts. The low fade keeps the back and sides neat, whereas the long comb enhances the classiness and contrast of the style. Styling your hair with dim-shine pomade allows you to control the stiffness of your hair.
3. Short Quiff Haircut
The quaff is continued to be a trendy style for men in the barbershops. The bulky quaff haircut skyrockets your hair's personality, whereas the skin fade on the sides gives you a clean-cut look. This style is ideal if you have three to four inches long hair.
4. Medium Side Swept

The medium side swept goes well with a full beard. Men having the hair three to five inches long must go for this style. To style your hair like this, just brush your hair to one side, while making sure to leave them textured and messy. A medium stroke of pomade is ideal for perpetual shine.
5. Short Textured

A short textured haircut having a high fade on the sides should be the best bet for people who have wavy or curly hair. This messy crop top fade is highly popular among the men. However, you will need to have 2 to 3 inches long hair on top that could narrow down to a bald fade.
6. Messy Taper

If you are obsessed with the messy contemporary styles, this dense medium-length haircut is sure to fulfill your fascination. The medium taper illustrates the classy edges, whereas the length in the front gives your personality a drastic boost. Surprisingly, if complemented with a thick, full beard, it exudes sex appeal.
7. Texture Pompadour Fade

This patterned pompadour will surely turn heads when you integrate an imaginary line up with a disconnected undercut. The style is perfect for men having straight and thick hair. To keep the magic of pompadour in place all day, apply wax to the towel-dried hair and finish the process with a dim hairspray.
8. Short sides, long top hairstyle

For those men, who are bold about expressing themselves, this long-on-top style is the best bet. The longer hair length on top becomes more prominent with the touch of bright blond highlights, and the fading fresh skin on the sides and back sharpens the contrast. Heavy trimmed beard would complement this hairstyle by giving a virile and hot look.
9. Slicked back wavy men's haircut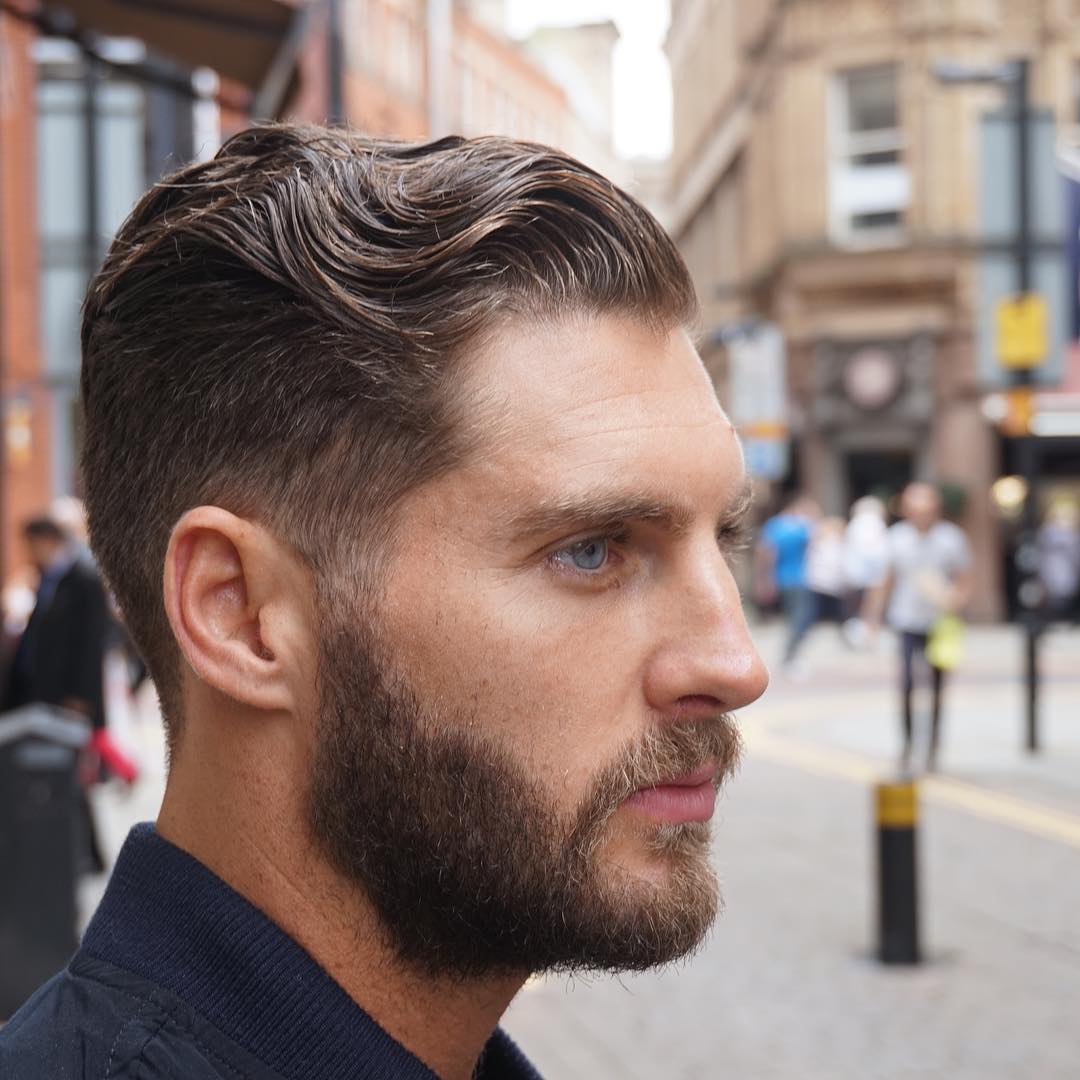 Slicked back men's haircuts have always been popular, but this one adds two modern touches to thick and wavy hair. The fading skin on the sides and back goes well with the short beard and shaved sideburns. Applying some matte or low-shine pomade while brushing your wavy hair back would help create this stylish slicked-back look.
10. Textured Crop-top Fade:

The textured crop or the French crop can add fringe into your style in a fantastic way. Adding some blond highlights and the edge up would add some more charm. You may add wax or pomade while twisting sections of hair end with your fingers.
11. Long Hair Brushed Back Men's Hairstyle

Modern hairstyles are not just about an excellent product to keep things in place, but the precise cut would be more appealing. For this style, hair should be left between four and six inches long on top toward the front, gradually getting shorter toward the back and fading on both sides. A medium- to a high-shine product would make the perfect look.
12. Faux Hawk Fade

Though the spiky textured crops are the most popular among men, the faux hawk continues to gain admiration. The modern hairstyle relinquishes the standard shiny gelled spikes for a more refined and smooth look. A muted and nonglossy product would add a spike to your hair and keep it in place all day, while the skin fade would make it conspicuous.
13. Side Part Hairstyle + High Bald Fade

This side part style is an excellent choice if you have thin hair, and you're looking for a modern style that doesn't require many volumes. You can create the look with a glossy product and just a comb. The bald fade highlights the bold part.
14. Extended Crew Cut + Tapered Sides

Today's barbers have found ways to make the military cut hot and fun. You can transform a simple cut into a long and textured crew cut by adding a medium-shine pomade and your fingertips. The cut, when paired with tapered sides, can give an impression of additional height.
15. Spiky Hair Fade Haircut

This spiky hairstyle works best for you if you like spikes that are not too bold to carry, e.g., Mohawk or faux hawk. You just need to apply pomade to wet hair and use a brush to pull hair up slightly tilted to one side. You may use fingertips to style the raised spikes.
16. Long Curly Hair Fade

You can flaunt your curly hair in style by adding this hot and modern long hair curly fade. It would stylize your hair elegantly and effortlessly. The curls become prominent on top with a good styling cream, and the skin fade enriches the look.
17. Long Hair Brushed Back

This stunning brushed back hairstyle can be achieved effortlessly since long hair can be stylized in dozens of versatile ways. The magic of extra height on top gives a sharp contrast to short sides. You don't always need a hairstylist to achieve this look, since a brush, a blow-dryer and a high-hold product applied to towel-dried hair would work best.
18. Thick Swept Back Undercut Fade

This thick swept-back undercut fade is quite popular in the list of men's haircuts. The longer hair on top stands out in contrast to the unique skin fade on the sides. To get the maximum effect, pair it with a short, well-groomed beard.
19. Medium Length Men's Haircut + High Skin Fade

This medium-length hairstyle and high skin fade can never go wrong if you want to make your face appear longer and more masculine. The wavy hair on top is complemented by a full beard and the clean fade with line up highlights to achieve the best version of this look.
20. Modern Messy Quiff

A messy modern quiff is best for men with thick, wavy, or curly hair as it adds some edge and personality to your style. This modern quaff doesn't require every hair in its proper place; instead, the messy part adds more charm and uniqueness to this look. A matte pomade or wax is needed to achieve this style.
21. Slick Back with Flow

Slick back with flow adds a modern touch to the classic greaser hairstyles, which is still popular among men. This look requires a high-hold glossy product while it's brushed back and to the side for a natural flow.
22. Mohawk Fade

This excellent Mohawk fade is a perfect choice if you don't want to get very tall, sharp-pointed, or multicolored spikes. The rumpled peaks stand out in the center while the close-trimmed fade and short beard add more charm and elegance.
23. Side Part Fade.

The clean-cut side part's popularity is on the rise again. You will need to pair it with a skin fade, an excellent glossy product, or a styling gel. Apply it to wet hair, brush out from the bold part and then comb the front upward to display the stylish front lunge.
24. Quiff Undercut Fade

A quiff can be styled in many different ways, but this undercut fade is the most desirable for a variety of hair types and lengths. The undercut adds a simple yet charming look while the texture and flow on top get highlighted. You should use a high-hold product that may allow movement at the same time.
25. High Skin Fade + Messy Spiky Hair

Messy spiky hair still stays among the most favorite hairstyle for men. The modern and stylish skin fade on the sides highlights the textured spikes. The irregular cut can be magically transformed into a fantastic spiky style by using a high-hold matte product that would create an impressive overall look.
26. Low Fade Haircut + Thick Wavy Hair

This simple yet elegant style is one of the most popular men's haircuts. It keeps the top front hair longer and fading towards napes and ears. Just apply some pomade to damp hair while combing backward. The hair spray will hold the fly-away hair and keep your look freshened up for the rest of the day.
27. Buzz Cut Fade

Buzz Cut Fade is the perfect choice for men who live a sensible and busy life as short hair requires little to no effort to get styled. This relaxed shape up looks striking with the two lines on the sides catching more attention. It is easy to achieve and maintain since it's just a wash-and-go style that looks good on any man.
28. Short Naturally Curly Hairstyle

Naturally, curly hair often requires a little bit more effort and control to style, but you can gain more control over your locks by keeping them short. This whimsical style includes a bit longer hair on top, gradually fading to the skin at the nape. Styling is more comfortable to achieve with some matte pomade, and the edging around the ears makes a personal statement.
29. Low Fade + Long Fringe

Fringes are the best way to create the most vibrant and vivacious looks that stand out in public. This excellent haircut is the best choice for men with wavy hair and for those who want hassle-free and high-maintenance style. Just add some medium- shine pomade to damp hair and use fingers to divide them into sections, pulling them forwards.
30. Textured Quiff

This textured quiff would work best for men who have just plunged into the world of modern styles. It embodies the archetypal cut that is longer on the top, and the front, along with the skin fade on the sides and nape. The creative look gets enhanced further if complemented with an edgy beard shape.
31. Side Swept Crew Cut

The short side-swept crew cut is an excellent choice for professionals who want to achieve a graceful and unique look. The short hair on the top is complemented with nearly-shaven sides giving a lively and frisky look. Go for it if you have beautiful and wavy hair. Just apply some pomade with your fingertips, and you are ready to go out in style.
32. Taper Fade Comb Over

Always choose a hairstyle that you love and enjoy styling. This taper fade comb over is the one you should try if you want to make a personal style statement. It's easy to achieve and gives a high-maintenance look. The real charm lies in the swept-over top part, and the sharp lines near the neck add to its uniqueness.
33. Medium Length Hairstyle + Taper Fade

If you want to achieve a playful look, this medium length taper –fade would be an excellent choice for you. The look is based on the typical masculine cut, but you can style the long hair on top in various ways. You can comb them over or give them a messy look while pairing it with the fully trimmed beard.
34. Short Textured Haircut

You can look stylish and hot even with short hair and achieve this short haircut effortlessly just with the help of a brush and matte pomade. Only apply a little amount of pomade on the top section of your hair with your fingers and then brush your hair forward and upwards.
35. High Fade Pompadour

This high fade pompadour is a clean-cut hairstyle, popular among those who want to achieve a masculine look. The longer hair on top is complemented by shorter hair on the sides, fading near the ears and nape. You will need a high-hold product and a wide-tooth comb to achieve the small texture.
36. High and Tight Fade

This high fade proves that the buzz cut can be attractive and charming as well. The top hair is less than a half-inch in length, gradually fading to bald high on the sides. The sharp parting edge adds more interest to the style while a faded beard would pair it perfectly.
37. Spiky Quiff Hairstyle

This hot and stylish haircut includes the spiky hard quiff with mid taper fade. It requires length on the top and longer fades on the sides and back. You can achieve this charming look with the help of high-shine and high-hold pomade to keep it fresh for a long time.
38. Skin Fade Comb Over

This skin fade comb over is one of those bold and funky looks that look perfect on longer hair. The skin fade on the side makes a bold statement paired with longer, combed over hair. It's convenient to use a medium-hold product despite its intricacy.
39. Short Curly Hairstyle

This short hairstyle is the perfect choice for styling your curls. The high fade enhances the curls on top, so make sure that you use a good styling cream to hold the curls in place and to add the definition and volume.
40. Thick Hair + Undercut Fade

Thick hair is best for creating many of today's popular and hot styles, e.g., quiff, a pompadour, slick back, Mohawk, comb-over, and side part hairstyles. This versatility and fusion between traditional and modern quiff require medium length thick hair brushed upward in front and forward from the back. The undercut fade defines the overall look.
41. Modern Slick Back Taper Fade

The modern, slick back taper fade is an excellent addition in the men's haircuts. It's heightened and textured on top as it's brushed back. The taper fade gives it a clean and balanced look, which is gracefully complemented by a full medium-length beard. You will only need a medium-shine pomade and a wide-tooth comb to achieve this look.
42. Short Textured Crop Top Fade

The perfect edges of this crop top style give it an innovative and unique look. This style can be achieved effortlessly at home with any right styling product. The high skin fade highlights the crop top, and short hair is easy to maintain for a longer period.
43. Short Spiky Hair

This hot and trendy style is an excellent fusion of the most stylish modern cuts as it creates gorgeous spiky hair. It integrates the quiff-like flip in front with the spiky texture on top and the skin fade on the sides. This stunning combination makes it look chic and classy.
44. Comb Over + Tapered Haircut

This tapered comb over is the best choice for men who have straight and thick hair. To achieve this look, get 4 to 6 inches on top and a standard taper on the sides and back. Add some wax or pomade to wet hair and blow-dry for volume to finish the look.
45. Low Fade Faux Hawk

If you want to style up with the fusion of spiky faux hawk and heavy pompadour, then this cut is for you. Get voluminous spikes on top and low fade on the sides to achieve the best version of this fantastic look.
46. High Top Fade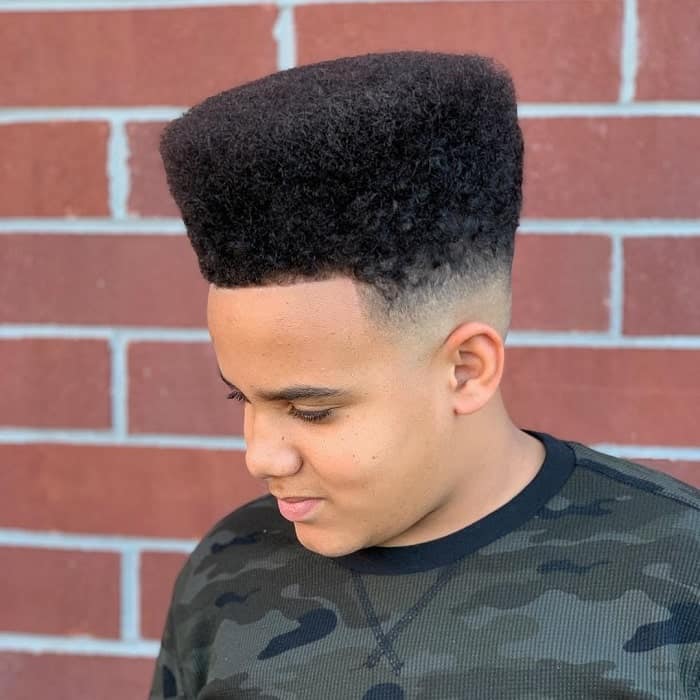 One of the most popular hairstyles of the '80s and '90s, the high top, is making a comeback and has grabbed everyone's attention. It looks fabulous when complemented with the high skin fade and natural curls. The trimmed thin mustache and goatee add more charm to this unique look.
47. Short Pompadour

Unlike other pompadours, this style doesn't require several inches of length, and it looks gorgeous when paired with a typical skin fade. It is more convenient to form with an excellent high-hold product as it's a versatile and clean- cut. You may also give it a slicked-back or combed-over look.
48. Hard Side Part + Low Fade

If you want to achieve a more professional and graceful look, the high side part style is for you. It gives you a masculine and playful look when paired with a short-cropped beard. Style this Wall Street boy look with high-shine pomade and a fine-tooth comb and make your personal style statement.
49. Brushed Back Fade Hairstyle

This brushed-back hairstyle is perfect for those who want a spick and span look. All you need is a matte pomade or wax for styling by an expert barber. The clean-cut finish just takes a few minutes in the morning and lasts longer, once you get the knick of this look.
50. Disconnected Quiff

The disconnected quiff is the ultimate choice for men this year. The sharp contrast between the blond highlights and disconnected undercut adds more charm, and the high skin fade enhances the height. You will need a high-hold product to keep hair in place and a wide-tooth comb to create a fantastic texture.
51. Buzz Cut + Line Up + Low Bald Fade

Now upgrade your bald fade buzz cut to another level with the help of an expert barber who is skillful enough in doing line ups. You may choose any design, abstract or geometric, and the skilled barber can do wonders on your hair. It is a low-maintenance hairstyle and easy to manage if you have a busy routine.
52. Side Swept Hairstyle + Undercut + Short Beard.

Voluminous hair has always been attractive and charming for men, especially if you have a short beard. The undercut highlights the swept-over height to one side with the disheveled fringe, which can be kept in place with the help of a high-hold product.
53. Messy Spiky Hair Taper

Messy, spiky hair taper incorporates a little bit of quiff with a lot of texture. The amazing spiky texture on top equipoises the swept-up length in the front, which is nicely complemented by the tapered fade on the sides and back. Style your hair with matte pomade and fingertips to create an exciting texture.
54. Burst Fade Mohawk

The classic Mohawk style integrates tall, perfect spikes and highly faded sides, but surprisingly, there are other options with curly hair, too. This mohawk goes pretty well for naturally curly hair while the burst fade enhances the height.
55. Faux Hawk + Shaved Sides

This faux hawk is more stylish and unique as it replaces the sharp and shiny spikes for something more even and natural. The shaved sides make the style stand out, which can be quickly done at home with some high-hold matte wax and a natural-bristle brush. Use your fingertips to style the spiky texture on top.
56. Long Fringe + High Taper Fade

Long fringe is the perfect choice for men who want a funky, boyish look which is easier to maintain. The cut you need is perfectly twisted to aside, so the length can touch a point on one side of the face. It is one of the most desirable men's haircuts for the people who want to achieve a bold and stylish look. The high taper fade is paired with the texture on top, making it one of the most fashionable cuts.
57. Short Spiky Hair in Front + Crew Cut Fade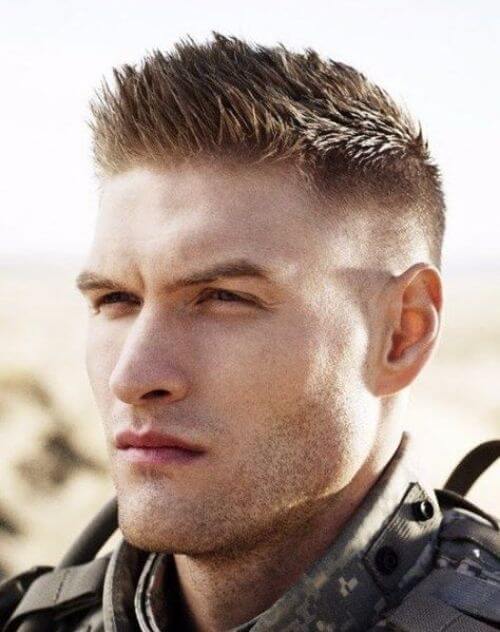 The crew cut has always been popular among men who want to have an elegant and masculine look. It instantly becomes modern if you pair the short quiff-like spikes in the front with a fade on the sides. It goes perfect for men with thick wavy hair, and a beard will make you look more handsome and classy.
58. Modern Pompadour Undercut + Beard

The side-swept pompadour is one of the hottest looks when paired by a short undercut. This style looks more charming for men with thick and wavy hair. If you complement it with a thick beard, it can hook everyone's attention towards your persona.
59. Short Cropped Hair + Taper Fade + Part

Short cropped hair can also look impressive when paired with the tapered sides, and the faux part trimmed into one side. The fantastic result can be seen on the platinum blond short textured hair. You can rock the style if you complement it with a clean-shaven face that will add more fun and youthfulness to your look.
60. Short Comb Over + Low Fade

The short comb over with a low fade gives you an utterly professional look with a touch of modern style. The comb-over look is achieved by adding a bit of length to the hair on top. Apply medium-shine pomade or wax with a regular comb to settle hair into a position and add the finishing touch with a hair spray.
61. Short Sides + Long Hair on Top

Most of the modern hairstyles feature voluminous hair and men take it up as a challenge to achieve the incredible volume and texture. This dramatic look integrates 6 inches long combed over pompadour with the extremely short bald fade on the sides, adding more height and uniqueness to the style.
62. Cool Hairstyle For Thick Hair

There are countless options to style your hair if you have thick and wavy hair. This coolest, side-swept look can be easily achieved with a medium-hold and medium-shine pomade and a brush to entice hair into place. The style gives you a professional and fashionable chic look that stands out anywhere.
63. Long Hair Slicked Back + Shaved Sides

This slicked back is the perfect look for you if you want to opt for a classic punk or new-age hipster style. The fully-shaved sides offer a sharp contrast to the super-shiny slick back hair in the center. If you want to achieve a badass masculine look, pair it up with a long, full beard.
64. Cool Hairstyle For Men with Curly Hair

You can achieve this funky and modern look if you have very thick and curly hair. This style adds up to the natural volume of your hair in a unique way. The thick, long curls on top are complemented with the taper fade with the help of a volumizing mousse for a glossy look and good hold all day long.
65. Long Flowing Natural Hairstyle + Low Taper

This fantastic long flowing hairstyle is excellent to achieve a chivalrous and romantic look. It combines medium-length hair on top with the textured hair flowing backward from the front, adding a bit of fringe and height in the front, too.
66. Slicked Back Side Part

This slicked back side part is a perfect choice for men who want to have a badass look, but not at the cost of their high-maintenance look. The cut can be achieved effortlessly with a wet-look gel and a wide-toothed comb. A skilled barber can give you a shape up along your hairline and beard to imitate this look.
67. Long Wavy Hairstyle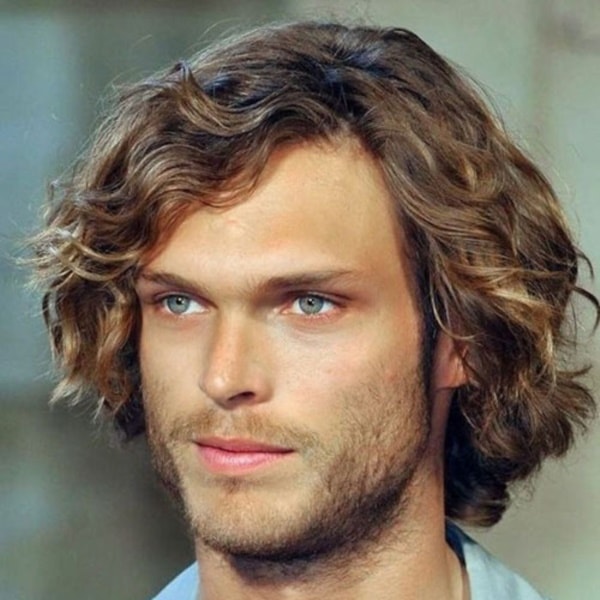 If you want to achieve a romantic and seductive look with your wavy locks, then this style is perfect for you. It's nicely shaped at the back and on the sides with the natural top-flow. Just apply a bit of matte pomade and brush your hair back from the sides and top. Use your fingertips to play with the top section and let the locks fall naturally.
68. High Fade Quiff

This high fade quiff is the best choice if you want a low-maintenance quiff. It has very short sides and a short to medium-length top, so you just need to apply some pomade, brush up your hair, and leave them spiked and ruffled. It's convenient to achieve this style, and the final result looks highly impressive.
69. Messy Hairstyle For Men with Thick Hair

Thick hair may look difficult to style, but you can create numerous interesting looks for your thick and messy hair, too. This messy look is cool and professional, and you can easily achieve it with the help of pomade. Just apply some pomade evenly to wet hair while disheveling and ruffling them with your fingertips.
70. Military Buzz Cut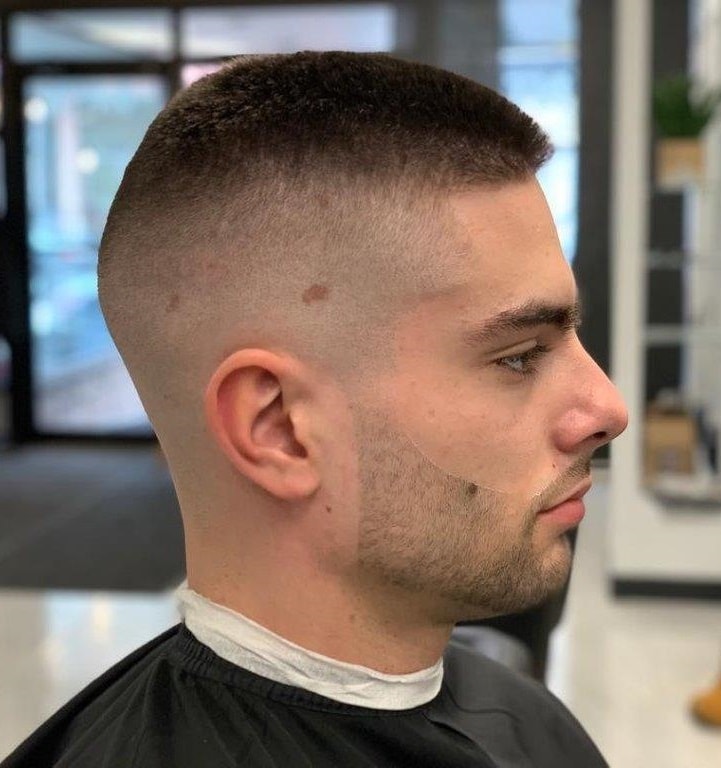 The buss cut hairstyle is still popular because it is low-maintenance and effortless. The military buzz cut is elongated on top than on the sides. It is complemented with the bald fade while shaving the hair down to the skin at nape and ears.
71. Short Curly Haircut + Low Drop Fade

The short curly haircut has always been popular among men with curly hair as it is easier to style and carry for a long time. The simple cut fades into the skin at napes and ears while a shaped beard complements it quite well.
72. Medium Length Hairstyle + Classic Taper

The classic taper is one of men's most favorites as it can be transformed into various styles, as shown in the image. The medium- length hair swoops over from a slight side part, which can be easily achieved with a wide-tooth comb. You can pair it nicely with a clean-shaven face or a full beard.
73. Short Hair + Spiked Front + Undercut

This amazing hairstyle integrates short length spikes with the undercut. It works best for thick wavy hair that adds height and volume to the cut. The spiked front on the top is enhanced by the short hair on the sides.
74. Curly Flat Top

Men with very narrow and small curly hair have only a few options to style their hair, and this short flat top is the best choice for them. The high skin fade on the sides sharpens the contrast of extremely thick curly hair. You will need a high-hold product to maintain the look all day.
75. Textured Thick Spiky Hair + Mid Fade

Thick spiky hair has a life of its own, and this style is one of the hottest and most charming masculine looks with longer, swept up the hair on top and a side part. Just add some mid-shine pomade to damp hair and use a wide-tooth comb to achieve this look that will make you stand out from the rest.
76. Long Combed Over Hair + High Fade

The long combed over the hair is quite popular among men, especially when paired with a high fade. This style stands out from others due to its volume and flow. It can be achieved easily for men with thick and silky hair. Adding some pomade and using a brush will work to achieve this look.
77. Cool Long Men's Hairstyle

This cool long men's hairstyle will be a head-turner for you if your hair can be trained to the slick-back. The style looks exuberant due to its height. You can achieve this look by using a firm-hold product and a blow-drier.
78. Short Textured Haircut + Long Fringe

Long fringe combined with a bald fade is eye-catching and fun to style. The bald fade works well with thick, dark hair on top and the fringe looks like the cherry on top. All you need to achieve this look is a good pomade, a brush, and your fingertips to lure everyone around you.
79. Short Sides + Long Curly Hair on Top

Long curly hair on top looks unique and stylish at the same time. The enticing curly fringe in the front is perfectly paired with short faded sides to give a charming look. It can be complemented nicely either with the full beard or with a clean-shaven face.
80. Long Spiky Hairstyle + High Skin Fade

Long, blunt spikes are more challenging to style than some of the other cuts, but it's a unique style that many men opt for. Long hair on top shaped into rounded spikes with a matte product is perfectly paired with the high bald sides and perfectly-shaped beard.
81. Messy Textured Pompadour + Low Fade

This messy textured pompadour pairs amazingly with a beard and a low fade. It is a bold style that will help you stand out in any gathering, especially with such height and flow. It is the best choice for thick, straight hair, but can also be achieved with wavy hair.
82. Short Combed Back Undercut Hairstyle

This short, combed back undercut suggests more plump and volume, which can help make a personal statement. The undercut offers a sharp contrast with very short and high sides. All you need is a matte pomade, a blow dryer, and a wide-tooth comb to achieve this glamorous hairstyle.
83. Side Swept Ivy League Haircut

Ivy League haircuts, which resemble the reformed textured crew cut, are popular among men of all ages and from all walks of life. It looks simple yet hot and masculine. It incorporates the tapered crew cut and the swept-up hair to the side with some high-hold pomade to keep in place all day.
84. European French Crop

The European French crop is a unique and modern hairstyle that combines the typical crop with some spikes and bangs of varying lengths alongside the symmetrical edge at the front. This funky look is more popular among younger men, but it can be altered in numerous ways according to your likes or dislikes.
85. Short Faux Hawk

A short faux hawk is bold but refined than the traditional Mohawk. You can play with the textured spikes in many different ways, i.e., to comb them to one side or upwards to achieve a more professional look. It's more versatile and suits many different hair types.
86. Short Messy Spiked Up Hair with Fade

Short spikes are preferred by men of all ages because it's short, simple, and unique at the same time. The spikes, when paired with the skin fade, look stunning for men with dark hair and a short beard.
87. Disconnected Undercut + Slick Back Hair + Beard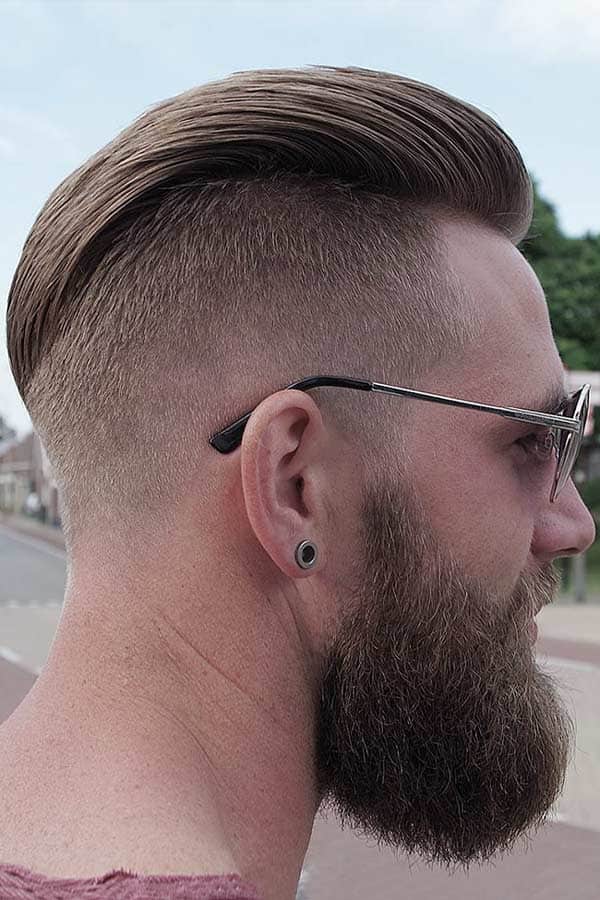 The disconnected undercut is a bold and classy look preferred by men who want to achieve a badass look. The slicked back hairstyle stays disconnected from the short undercut, enhancing the top part. You can surely turn heads and impress everyone with this hairstyle when paired with the striking, fully grown beard.
88. High Fade + Medium Hair

Medium- length hair can be styled in a lot of different ways, and this style combines the bold part with the high fade on sides. The bold side part is perfectly textured, enhanced by the high fade, giving it a clean and professional look. It's suitable for almost all hair types.
89. Cool Hairstyle for Men with Wavy Hair

Wavy hair is funky, masculine, and fun, so if you want volume and flow, consider trying this style. It looks bold with the side-swept texture of wavy hair and fringe, making it look flirty and frivolous. To add versatility, you may pair it up with a beard.
90. Short Fade Haircut

The short fade haircut is ideal for men with wavy hair. You may achieve a variety of looks with this hairstyle. Look professional if you need or get ready for a night out with your friends. The classy look can be turned into a playful look by adding a bit of pomade and a quick tousle. Pair it up with a short beard or with a clean-shaven face.
91. Low Fade + Messy Longer Hair on Top

Messy hairstyles are suitable for guys with all hair types and lengths. All you need is the right cut and some pomade or wax. Then just tousle your hair before going out. The skin fade highlights the messy look, and a short beard complements it further.
92. Side Part + Shaved Hard Part + Spiked Front

This fun and frivolous style are perfect for athletes and playboys. It suits men with thick and heavy hair that require some good hold products to be properly settled into place. You will need matte pomade or wax with a fine bristle brush to achieve this luring look.
93. Modern Blowout Haircut + Mid Fade

As the name indicates, this haircut will require blow-dry to achieve the amazing wavy look. It can be accomplished by using pomade on damp hair, then blow-drying it back from the top and sides. After achieving the desired smooth- textured look, all the effort will be worth it.
94. High Temp Fade + Short Spiked Wavy Hair

This classic look is suitable for men with thick or fine hair since it can be created effortlessly with a styling cream or pomade. It may also be adapted into a professional or sporty look. The high fade pairs well with the short spiked wavy hair at the front.
95. Undercut Quiff + Shape Up

The undercut quiff is a glamorous style that is quite popular among men from all walks of life. The thick quiff looks even more elegant when complemented with a short undercut. The shape up at the temples outlines the jaw and the forehead, which is perfect for men who prefer a clean-shaven face.
96. Very Short Haircut for Men

Terse men's haircuts can be interesting, too, and this hairstyle proves it. You can add charm into very short hair by choosing from dozens of line-up options. You can add variety after new growth whenever you see a barber. This look is perfect for extremely busy men since it is low-maintenance and playful.
97. Short Sides and Back + Long Top

This bold and frivolous look is for you if you are inclined towards punk or skater lifestyle. The stunningly flowing blond locks are the highlight of this cut while being paired with the undercut base. The textured and tousled pieces are a great way to enhance your personal style.
98. Faux hawk Taper Fade + Beard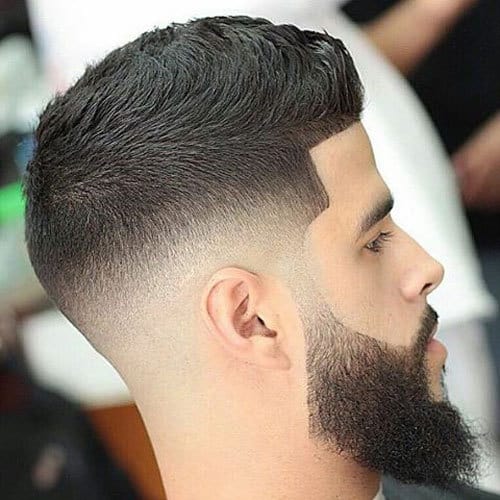 If you want to combine professional and modern look, the faux hawk taper fade is an excellent choice to begin with. All you need is a good-hold pomade or wax with a fine-tooth comb. You can pair it with a short beard to achieve a flawless and enticing look.
99. Crop Fade + Line Up + Fringe

This classic look is perfect for men with fine hair who don't prefer voluminous hairstyles. The crop fade with the fringe in front creates a unique style. The line-up at the temples further enhances the masculine facial features.
100. Short Wavy Hair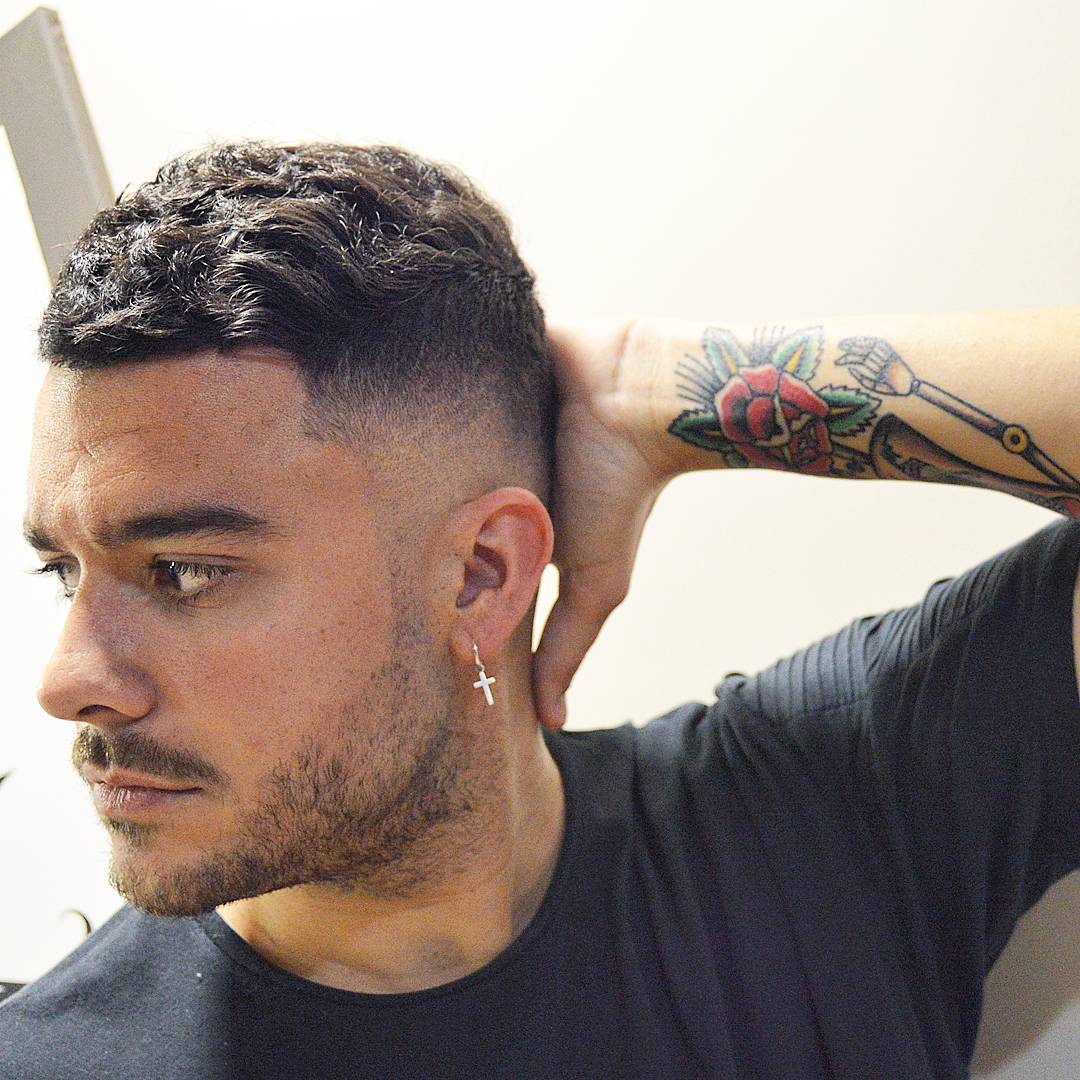 Short wavy hair can be styled in numerous ways, and this messy look works best with a fade or undercuts on the sides and short-cropped hair on top. You can achieve this tousled look with pomade for excellent results.
101. Messy Undercut

This fascinating haircut illustrates messy longer textured hair with pristine and short shaved sides. The style is also believed to be a modern take on the undercut. If you have thick hair, this amazing messy undercut is perfect for you. To amplify the shine, you can apply the gel on the sides.
102. Longer Natural Flow + Short Sides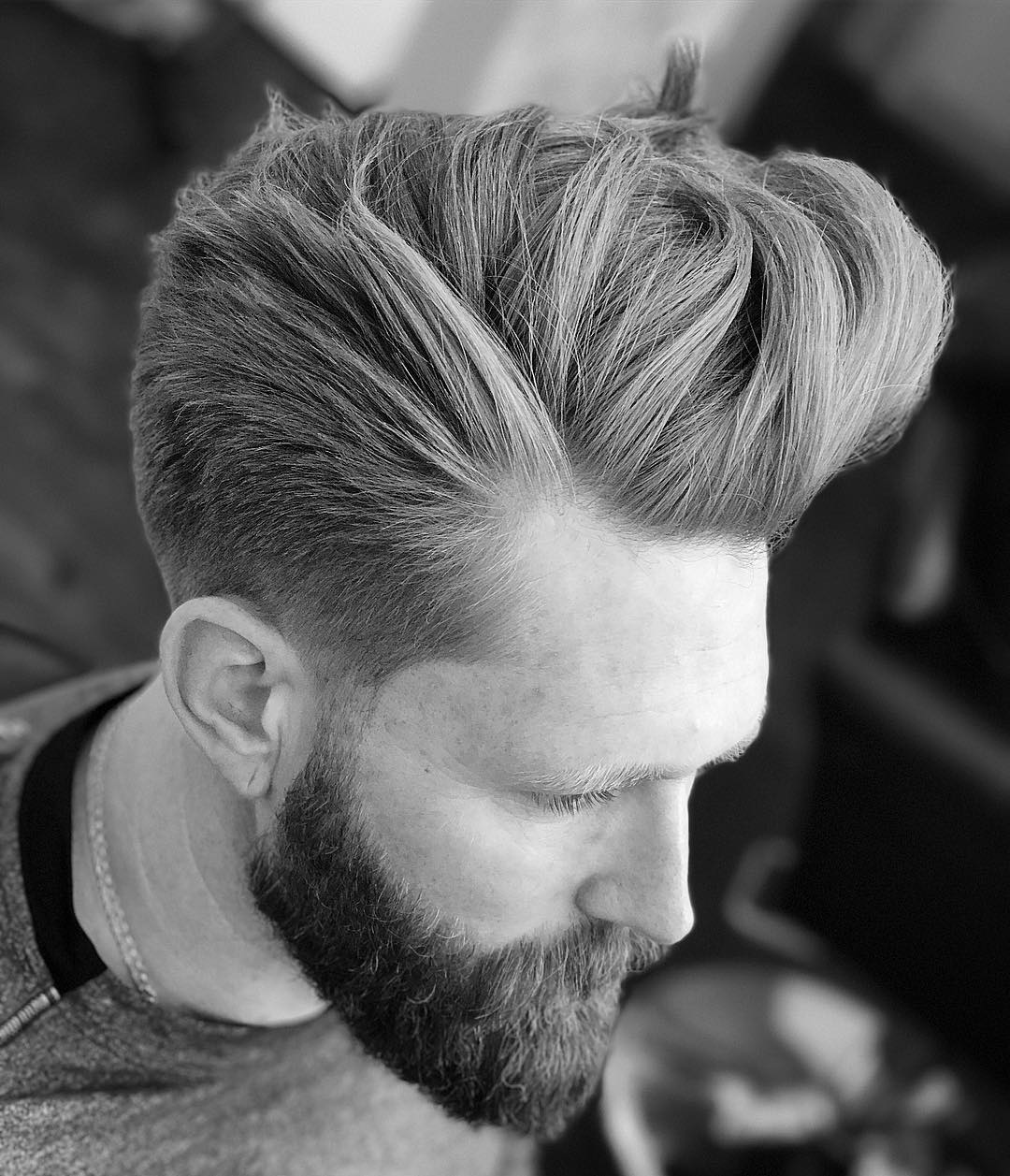 For several years, this hairstyle has been considered one of the most famous men's haircuts. It showcases the shaved sides with the long hair on the top. To get the tall hair-factor on the top, you must use a blow dryer. The style is ideal with thick hair.
103. High-Low Fade + Long Fringe + Surgical Line

This mesmerizing style for men features a surgical line, side part, bald fade, and a long fringe. The messy textured hair on top actually quadruples the beauty of the cut. It will suit best with a trimmed beard.
104. Undercut + Messy Hair on top

Undoubtedly, it would be one of the best undercuts you will ever see. It will be an excellent option if you have an abundance of thick hair. The hair on top should be directed leftwards so that they could flow wildly.
105. Long Fringe + undercut

This style has an asymmetrical look with the lengthy fringe in front. Men having longer hair from the front will look very cool in this style. This style can also be termed as the modern version of the classic "skater haircut."
106. Medium Length Haircut + Taper Fade

With some medium length flow on the top, this eye-catchy taper fade haircut will definitely dazzle the eyes. Maintain a shorter length from the sides and longer length from the top. In order to get perfect movement and flow, use a blow dryer.
107. Mid Fade Haircut

Featuring a super clean fade on the back and the sides, this innovative style should be your best bet if you have thick, curly, or wavy hair. The attractive blend of short hair into the medium length will skyrocket the already stunning look. Surprisingly, this style can be maintained without any dryer.
108. Medium Length + Mid Fade

The style depicts an overwhelming line up in the front. You can use a brush or a blow dryer to get hair like this on top. The damp hair can be dried with or without light or medium hold pomade. The style suits best with a neat beard.
109. Hairstyle for Curly Hair + Drop Fade

A drop/bald fade is optimal to keep the things cool in the sides and the back. The long fringe is clear in the front, whereas the curly hair on the top is left wild. The style is unmatched for men having thick curly hair.
110. Low Fade Haircut + Side Part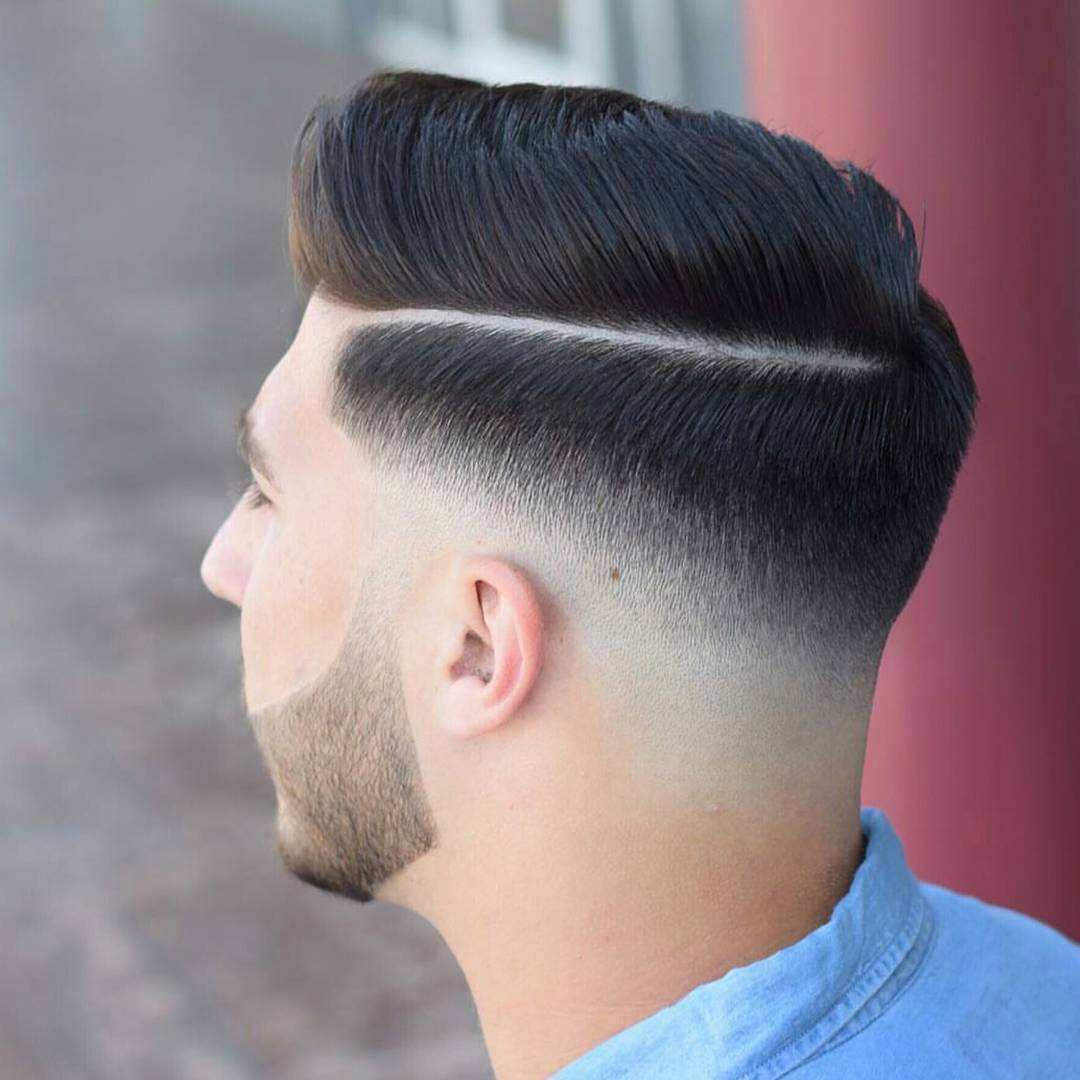 This haircut is a mixture of classic and modern depiction. The pompadour hairstyle, when mixed with the side part, is a testimony to the magical attraction. Dyeing the hair with light brown color is sure to give you an overwhelming look.
111. Medium Length Modern Classic

The medium-length modern classic is an attractive and enticing tapered haircut with the side part. The long hair on the top and short hair on the sides are perfect for a classy look. A dim golden shade on the top will accentuate you among the fellows.
112. Pomp + Drop Fade

This haircut is half undercut and half pompadour. It excellently showcases a drop fade down the skin. Using a blow dryer will give you hair flow, movement, and body. You can brush and blow-dry to whichever side you want. Light hold pomade maintains the style for a couple of hours.
113. Long Curls + Hair Design

The long curls with a custom hair design will perfectly blend into longer hair on top. The cool style on the sides accents the high fade. You don't need any products to maintain the style, as its shape will remain intact throughout the day.
114. Textured Wavy Haircut

Another cool haircut if somebody has curly or wavy hair. It displays a bald fade haircut with long curly hair on the top. The impressive contrast is the primary thing that makes this haircut a priority for stylish men.
115. Natural Curls + Textures

Natural curls on the top while clean mid fade on the sides; this style is trendy among the people of African descent. The prominent part separates the hair on top from the sides.
116. Long Beautiful Natural Curls

It is another masterpiece for wavy or curly hair. The neatly trimmed sides look fresh when washed with warm water. Directing the hair on top to the left has its own charm. It is super easy to style with the brush. The style will perfectly suit the clean-shaven face.
117. Short haircut for curly hair

This cool and simple neck design amalgamated into the fascinating taper fade is the best choice for teenagers. The blending of design into the classic short haircut will certainly leave everyone spellbound. A small amount of pomade will make it easier to style.
118. Textured haircut + Curly Hair

This thick-textured hairstyle will signify their class of men having wavy hair. The rough setting of hair on the top and the trimmed hair on the sides is a recipe for a breathtaking look. Applying a slight shade on the tops and then scattering the hair will optimize the overall beauty.
119. Medium Textures + Short Sides

If you want to impress the people with your thick hair, this is an excellent haircut to try out. Long hair on the top is styled backward, whereas the sides are shortly tapered. You can just slick it back or style it into the sides. Apply the wet gel to maintain the wetness of the hair.
120. Scissor Cut Side Part

This is another example of a pristine style for more flow, length, and movement of hair. This tapered haircut is great for men having straight hair. Your hair will be neatly trimmed on the sides with no skin.
121. Mohawk Bald Fade

Mohawk has become increasingly popular in 2020. This style depicts a bald face, line up from the front to keep the things fresh and smooth. The curls on the top are left free to do the magic on their own.
122. Long Textured Fringe + Mid Fade

This innovative take on the classic skater is unbeatable in class. The long textures are directed forward into the edges of the fringe. The thick hair length on top perfectly contrasts with the attractive mid fades to the sides.
123. Short Textured Quiff + Mid Fade

This haircut will never betray the feelings of the guys who want to keep things fresh and clean. The short textured hair is styled into a quiff, and a mid-skin fade will highlight the uniqueness of the style. This haircut is super easy to maintain, and you can even style it with your fingers.
124. Textured Quiff Mohawk

It is part pompadour, part quiff, and part Mohawk. It highlights a bald fade that puts the focus on rough and loose hair on the top. You need to use a brush and a blow dryer to maintain this look.
125. Natural Flow + Movement

It is another classic medium haircut in which things are trimmed and cleaned up. No skin, no shaved hair, and no clipper work. As we head into 2020, we will see more and more styles like this. The majority of the guys go for long hair for a natural flow.
126. Medium Fringe + Natural Movement

Undoubtedly, it is one of the ideal men's haircuts for fine or thin hair. Guys having less hair would want a haircut that focuses on what is left on the top, and this taper fade with natural movement is the answer to your problems. The medium length on top has an impressive natural flow.
127. Low Fade + Thick Textured Hair

This choppy textured quiff haircut illustrates a high skin fade and a super cool disconnected undercut. It works best into damp hair. To get the long-lasting results, you should use some stronger hold pomade.
128. Low Fade + Short Textured Hair

This style has not just the classic fade but also the modern shades. The hard lines in the back and sides accentuate the fade to give some extra detail.
129. Choppy Textured Medium Length

Everyone was obsessed with the short textured haircuts a few years ago. However, things have evolved now, and the longer textured haircuts like this one are now the modern obsession. Whether your hair is fine or coarse, this style works best with guys having thicker hair. The styling is much easier due to the textured cut.
130. Sculpted Modern Afro

Afro hairstyles have been a fresh choice for the guys of all ages. These stylish cuts are still living up to their cool status. This style will help you embrace your natural hair texture while also offering a stylish silhouette. If you want an incredible and attractive shape, go for it.
131. Long Hair + Bun

The primary advantage of long hair is that you can style it in a number of ways. It is also the reason why more and more guys are opting for it. If you have a thick beard, you can tie the hair back into a bun. Either you can keep them in a ponytail or just let go wild.
132. Modern Undercut + Longer Hair

The bald fade emphasizes the medium to long hair on top. This haircut will make it appear that you have more hair than you might have. It is a perfect choice for the guys that have thin or fine hair.
133. Medium Textured Haircut

Yet, another fascinating patterned quiff haircut. It is a common choice for guys with dense hair. You will be surprised to know that the quiff has been considered one of the best men's haircuts for a couple of years.
134. Choppy Textured + Bald Fade

Go for this choppy and attractive quiff if you want a cool spiky haircut. This style is popular among teenagers who have short beards. The sides showcase the bald skin, whereas the hair on the top enhances the beauty of the sides.
135. Textured Haircut for Short Hair

Guys who have fine hair, thinning hair, or less hair can highlight their classy looks through this style. It is basically a short textured haircut. The hair on the sides is short but not entirely shaved down to the skin. The style would look perfect when complemented with a trimmed beard.
136. Cool Short Crop Haircut + Low Fade

This blunt crop haircut is one of the most popular men's haircuts among the men who have short hair. Amazingly, it is suitable for all hair types. From curly, wavy, and thick hair to the super straight hair, it will do wonders all the time.
137. Cool Mohawk + Drop Fade

This appealing Mohawk haircut looks phenomenal with a disconnected beard and a bald drop fade. You can style it with a pomade that has a prominent shine to get this fantastic look. The enigmatic style on the back is the primary thing that distinguishes your personality.
138. Low Fade + Medium Wavy Hair on Top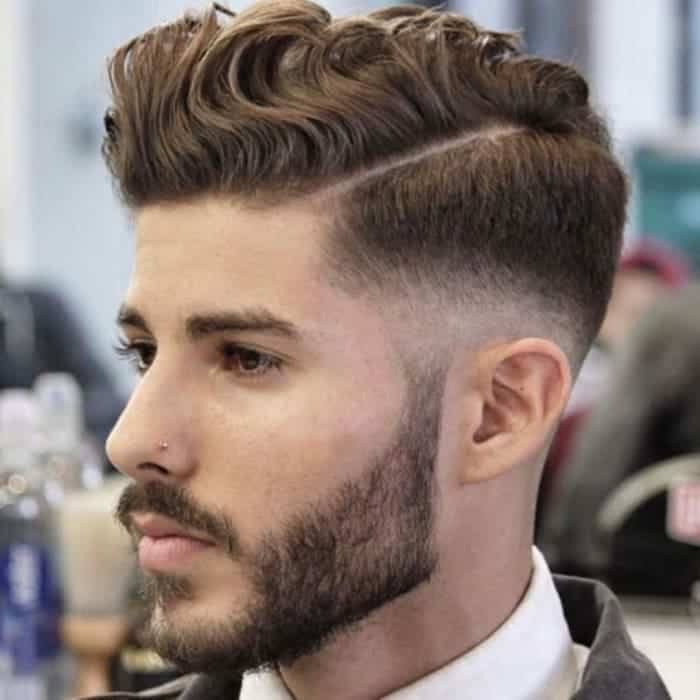 The long loose hair on the top can be blown dry and brushed back. The length on top stands out impeccably from the low skin fade. The shining pomade can be used to give the style a long-lasting action.
139. Mid Fade Haircut + Wavy Hair

It is an elegant haircut to show off your thick wavy hair. In this style, the fringe is usually kept long. This style is basically an innovative take on the vintage skater haircut of the 1980s.
140. Side Part Haircut + Wavy Hair

It is another classy and exquisite haircut for wavy hair. It features a mid-fade with a step that displays the side part. The fine hard shaved part further exaggerates the side part. The hair is pristinely combed over to the side.
141. Natural Movement + Flow

To give the style an extra movement and flow, the hair on the back and the top is kept longer. This style is maintained by using a blow dryer. The short hair on the sides complements the long hair, which leads to an amazing blend.
142. Classic Short Combover

The classic comb-over has transcended the realm of older, balding men. The guys of the 21st century are also opting for this hairstyle due to its class. The short hair is combed over to obscure a bald spot on the top of the head.
143. Slicked Back Haircut + Thick Beard

It is an impressive haircut for the guys who have thick hair. The hair is cut short in the sides but not entirely shaved. The longer hair on top is styled back to for a splendid look.
144. Low Fade + Hard Part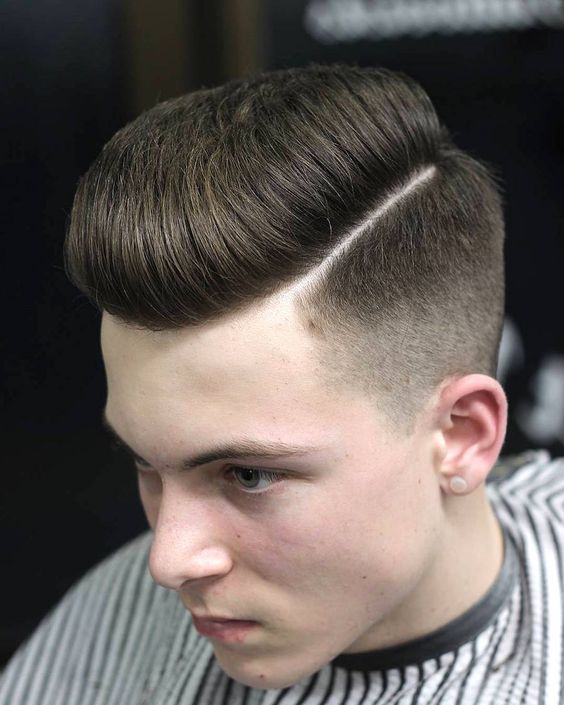 The cool hard part, when combined with the low fade, puts an appealing accent on the style. The style is famous among the teenagers of African descent.
145. Braided Mohawk with Shaved Sides

This stylish Mohawk style includes a braid, which is used to separate the shaved sides from the long hair on top. Everyone reveres this attention-grabbing feature of the style.
146. Low Fade with Waves

This hairstyle is an ideal example of how a low haircut can highlight the pattern created by the waves. A low taper fade will be best for black men. You can get a low cut with the waves if you are not revealing much scalp.
147. Faux Mohawk + Line Up

This mesmerizing style will create volume and texture if you add spikes to the faux hawk itself. Amazingly, you would not need any wild trimming to maintain the style. It is best suited with a sharp beard.
148. Faux Hawk with Taper Fade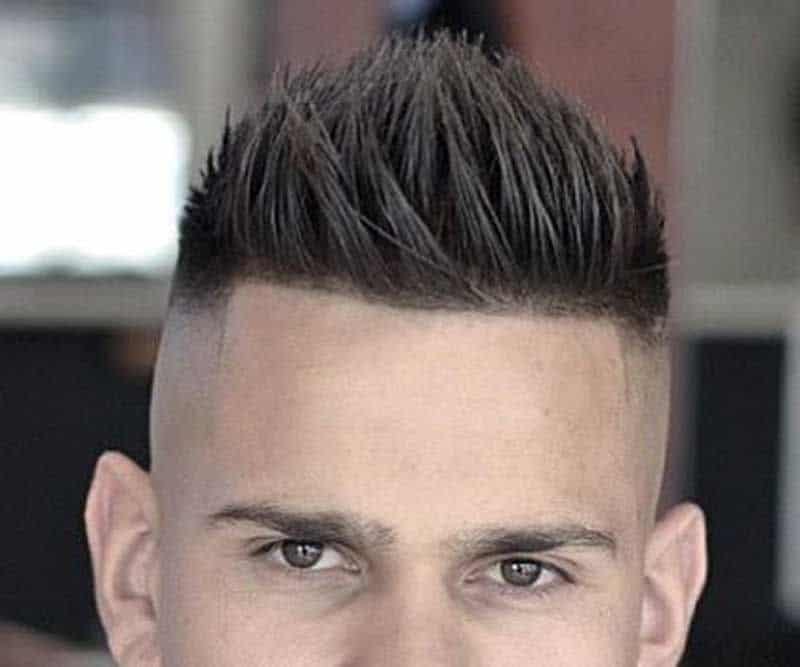 The faux hawk with the taper fade blends the hair finely on the sides of the face. You must need to know what length will suit your individual features if you want to maximize the beauty of style. It will also allow you to ascertain whether or not the more volume at the top will work for your face.
149. Retro High Top Taper Fade

For a polished style, you should ask the barber to smooth out the entire shape of your haircut. Also, tell him to create a low fade to the skin in the back. A mock side part design gives it a finishing touch.
150. Bright Two-Tone Mohawk Fade

Finally, we have a sparkling style that will give an edge to your regular hairstyle due to the two different shades. However, it will only work for the guys who have long hair types. The dark shade on the sides and the lighter one on the top of the head will grab the attention wherever you go.
Join our list
Subscribe to our mailing list and get interesting stuff and updates to your email inbox.